I thought I would link to some of the recipes I used for the baby shower, along with a great crock pot website I was introduced to today. :)

First of all... the shower goodies. :)

1. Egg and Cheese casserole from The Fix It and Forget It cookbook (pg. 22)
This cookbook is full of yummy, easy recipes you can toss in the crockpot and forget about until dinner time. It's wonderful, especially during hot, Floridian summers. :) There is a whole series of Fix It and Forget It cookbooks, including one with 5 ingredients or less for each recipe, one focused on "light" cooking, and even one for diabetics. Matt and Chris (a friend who helped us finish up some left-overs after church Sunday) both really liked this too. So it's even a good "man food." :) I tripled the recipe, and it came out just fine. :)


2.
Spiral Apple Dumplings
, Better Homes & Gardens website

This is the recipe I couldn't get quite right, but it still tasted wonderful! Something with the dough wasn't quite right. I'm not sure what went wrong. But, I just dumped it all into a 9x13 and baked it without worrying about the spirals. :) It is still sooooo good, and I think it would be delicious heated and on top of some vanilla ice cream, too! :)

3.
Coffee cake
, Krusteaz box :)
You can see the box in the picture above. Easy as can be, and very tasty. This picture is from a recipe online to turn it into a pumpkin coffee cake... something interesting to try next time! :)

4.
Party Punch XI
, Allrecipes.com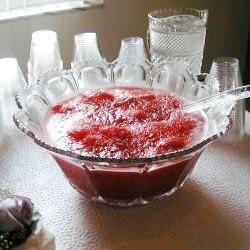 This punch is DELISH! Just don't tell anyone how much sugar you put in it. :) It's really easy, though you definitely want to prepare it the day before to allow it to freeze. You could also easily cut the recipe in half or in thirds. I made the full thing, and it filled up three gallon size ziploc bags (which I used for the freezing step). Even then, they did not freeze completely overnight. That actually turned out to be a good thing, because the comments for the recipe suggest that it can be time consuming to defrost it and get it to the right slushiness if it's frozen solid. Several people commented on how much they liked it, and Matt would probably take it intravenously if that were possible. :) Two thumbs up from us!
I also some some mixed fruit and mini blueberry muffins (fat free Krusteaz box... I added some extra vanilla extra for flavoring), but you don't need recipes for those. :)
Lastly, check out this
Year of Crockpotting blog
! I can't wait to check it out more and try some of the recipes!